Last modified: May 19, 2023
Robotics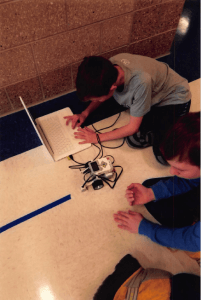 Students learn computational thinking and problem solving skills by working together as a team to design a robot, and then solve problems and challenges by programming their robot to complete specific tasks.  We will be using Lego Mindstorm EV3 kits.
Classes will start February 23, will meet two days/week.  Only 5th and 6th graders are allowed to compete and will be formed into teams of 2-3 members.  Teams will compete against their fellow teams here from Rock Canyon.  The competition date is yet to be determined.
Click here to see a video of the Spring 2019 Line Following Challenge.
Jonathan Lund, a parent at Rock Canyon, will be our Mentor/Coach this year.  He is a software developer and has a B.S. and M.S. in mechanical engineering from BYU.
Who:  5th-6th graders
When: Monday & Wednesday
Time:  3:30-4:30
Where:  Faculty Lounge
Class starts:  February 23
Competition:  April 20
Class ends:  April 25