Last modified: October 5, 2023
Chess Club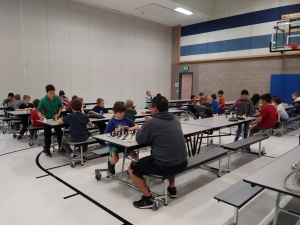 No Chess Club on early out days.
Parent Participation:  In order to run a successful Chess Club, we need volunteers to monitor our after school sessions.  This does not require previous chess experience.  All parents are expected to assist at Chess Club a few times during the year, if possible.
Chess sets (optional):  In September we place a group order for students who would like to have their own set to use at home.  These are the same large vinyl boards, pieces, and bags that we use for Chess Club.  We will take orders once we finalize registration for the class.
Rules
I will play chess at Chess Club meetings.  I will not participate in any other activity during this time. I will sign in when I arrive at Chess Club, and will stay until Chess Club is over.  Permission from a parent or guardian is needed for early dismissal. I will treat the chess equipment with respect, put away my chess games, and pick up after myself. I will treat others with respect and follow rules of good sportsmanship.
Who: K-6th graders
When:  Wednesday
Time:  3:20-4:15pm
Where:  Cafeteria
Class Starts:  Sep 6
Chess Coach:  Ethan Beckstead