/
/
Chess Club
Last modified: January 10, 2020
Chess Club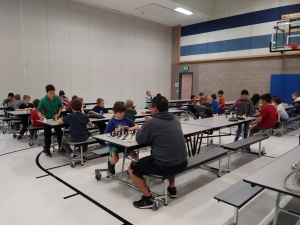 No Chess Club on early out days.
Parent Participation:  In order to run a successful Chess Club, we need volunteers to monitor our after school sessions.  This does not require previous chess experience.  All parents are expected to assist at Chess Club a few times during the year, if possible.
T-Shirts:  $5.00 each.  Youth sizes XS-XL.  Adult sizes available, if requested by 9/18/19.  Please specify if ordering an adult size.  Chess Club members are encouraged to wear their Chess Club shirts on chess club days.
Chess sets (optional):  $10.00 each, if ordered by 9/18/19.  Board/bag color: black, forest green, navy blue, burgundy, red or pink.  These are the same large vinyl boards, pieces, and bags that we use for Chess Club.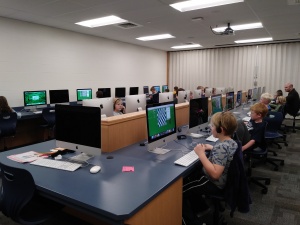 Coordinator:
Chelsea Haddock
haddock.chelsea@gmail.com
801-680-1914
Rules
I will play chess at Chess Club meetings.  I will not participate in any other activity during this time. I will sign in when I arrive at Chess Club, and will stay until Chess Club is over.  Permission from a parent or guardian is needed for early dismissal. I will treat the chess equipment with respect, put away my chess games, and pick up after myself. I will treat others with respect and follow rules of good sportsmanship.
Who: K-6th graders
When: Every other Wednesday
Time:  3:20-4:00pm
Where:  Kiva
Cost:  $15/year
Class Starts:  January 15
Last day of class: 
Register online at the following link: https://forms.gle/kDfGrDsgxfLB24Dn9