Last modified: June 18, 2020
Events
Sixth grade Primary Sources Project 2011
Since January the sixth graders have been working on a humanitarian project for the Desert International Foundation that has tied into this years library study of primary sources.  The foundation works with local doctors all over the workd who deal with medical problems that they face in their native countries.  They provide Deseert Houses for the patients-places where their families can assist them in preparing and recovering from surgery.  Doug Jackson president of the Deseret Foundation visited with the sixth graders.  The project we chose to do was to create stuffed animals from gloves and socks for the children to have after their surgeries.  Sewing with a needle and thread was new to many students but they were dedicated and committed to the project.  Because of their effocts 83 "soft friends" were delivered to the deseret homes in Zimbabwe and the Phillipines in May. We are so very proud of the sixth graders and have so enjoyed working on this project with them. We'd like to thank Autumn Christensen, Mrs. Colfer and Tamara Hill for their support in sewing and donating materials.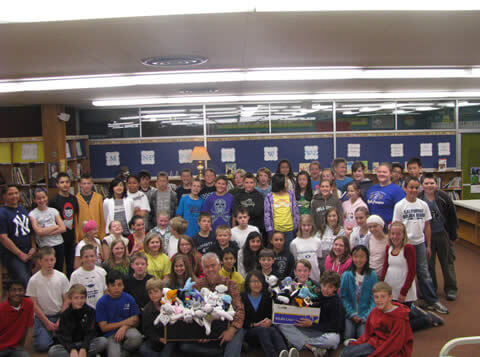 After School Program Play: January
After School Program Play: January We have already had a busy time in the library this year. Here are just a few things that have taken place in January.
We had a play performed by the Afterschool Program for the 1st and 2nd grade storytimes.  It was "How the frog went to heaven" an Angola Fable.  The students did such a great job and all the classes enjoyed it.